Special Education and ELL Special Interest Group
The WABE Special Education and ELL Special Interest Group's mission is to support, expand and advocate for the appropriate identification, evaluation and instruction for ELL students of concern.
All are welcome to attend the SIG meetings and bring questions and resources to share.
Officers
Chair: Teresita Tobon
Co-chair: Steve Gill
Secretary: Traci Haddad
WABE Board Representative: Jeanne-Marie Wright
Next meeting following a presentation by Steve Gill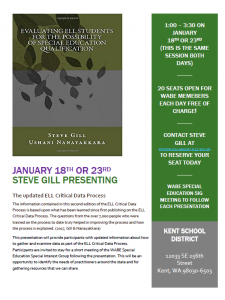 Click here for a printable version of the Flyer
Agenda: Determining needs and resources.
Date/time:  January 18th OR 23rd at 3:30 following Steve Gill's presentation on the Updated ELL Critical Data Process
Location: Kent School District 12033 SE 256th St. Kent, WA 98030
Contact: Steve or Traci for more information
Resources
Meeting minutes
Identification Tools
Updated documents coming soon!
Governance of ELL & Special Education
392-160-045
DOJ/DOE Memorandum January 7, 2015
Interventions for English Learners – Dr. Julie Esparza Brown
RTI for ELLs
Language Proficiency Continuum
The PLUSS Model – Sanford, Brown & Turner
The PLUSS Framework – chart
Dates
Updated ELL Critical Data Process and Special Education SIG meeting
January 18th and 23rd, 2018 Kent, WA
WABE Dual Language and Secondary EL Institute
January 26-17, 2018 Vancouver, WA
WABE Annual Conference 2018: Language, Literacy, and Learning: 3Ls for ELs
March 23-24, 2018 Tacoma, WA