Hyatt Regency Bellevue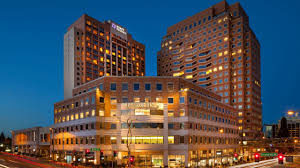 To book your group accommodations at the Hyatt Regency Bellevue (Headquarter Hotel) please call 877-803-7534. We have a group block of rooms at per diem ($189 per night). The operator will need to know the following:
Hotel Name: Hyatt Regency Bellevue
Group Code: WAB1
Check-in Date (Thursday April 25 for a standard registration)
If you are booking two rooms or fewer, you are welcome to book via the Hyatt's online reservation system.
Hyatt Regency Bellevue
900 Bellevue Way NE
Bellevue, WA 98004
Hyatt Regency Payment Information:
All reservations are held via credit card upon booking. No charges will be billed to that credit card prior to your arrival. Room reservations may be paid onsite using a Procurement 'P' Card or a personal credit card.
Please note that Purchase Orders will not be accepted in 2019 as a form of payment at the Hyatt Regency for your reservation. You or your district may prepay via business check up to 4 weeks prior to the conference, no later than March 27, 2019. A single check may be used to pay for several reservations. If your district is paying for the hotel rooms but you will not have a district card with you onsite, please fill out and fax (425.698.4280) in the Hyatt Regency's credit card authorization form.
Please confirm your WABE plans early, this will allow the block to be filled with those attending the conference.
The cutoff date for reserving a room within the room block is March 25, 2019 based on availability.